[Malaysiakini] Confirmed - Cheras residents can tear down concrete barrier
~ by Syed Jaymal Zahiid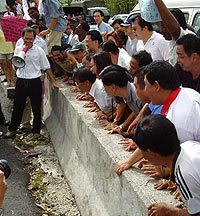 The Hulu Langat land office has confirmed that highway concessionaire Grand Saga has no rights over a stretch of road in Bandar Mahkota Cheras (BMC), over which it has had a long-running dispute with residents.

In a letter, assistant district officer Norhanizatuazwin Samsuni stated that Jalan Cheras Lama was acquired by BMC developer Narajaya Sdn Bhd, according to the Selangor government gazette dated May 27, 2003.

Addressed to DAP Selangor executive councillor Ean Yong Hian Wah, the letter also stated that the road immediately in front Jalan Cheras Lama belongs to the federal government and not to Grand Saga.

"What this means is that Grand Saga has no right to erect any barricade and that BMC residents have every right to remove it because it was unlawfully erected," he told residents at a press conference held at the site.

"Even if Grand Saga wants to build another barricade on their land, they have to go through the Kajang Municipal Council (MPKJ) first and then deal with the Malaysian Highway Authority."

This corroborated the findings of an independent survey by Jurukur Berjaya, hired by residents. Based on markers approved by the National Department of Survey and Mapping, the surveyors found that the barricades had been erected on a road belonging to BMC.

The firm's representative CK Khoo, who was at the press conference, said his team is confident that the survey firm hired by both Grand Saga and MPKJ will yield similar results. A report is expected to be released tomorrow.

BMC residents have been demanding the removal of the concrete barricade which has prevented them from accessing the Cheras-Kajang highway without having to pay toll.

They have argued that the access road is part of a package offered by the housing developers. Completed in 2003, the road was sealed off by Grand Saga two years ago.

Since then, residents have to make a 6km detour and pass through a toll booth, paying 90 sen, to enter the highway [See Google map below]. They have also complained that the detour causes traffic jams.

The residents have held numerous protests, including one which saw many of their leaders arrested for participating in an illegal assembly.

The barricade was torn down by residents last Monday, following confusion over the status of the land. This has allowed motorists to use the access road and bypass the toll-booth.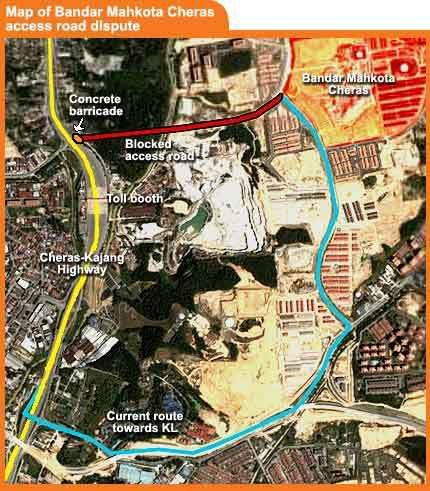 The article above is taken from "Malaysiakini" .
Today's Visitors: 0 Total Visitors: 231