[Malaysiakini] DAP, Bar Council to go dark on Internet Blackout Day - August 14
Source: Malaysiakini.com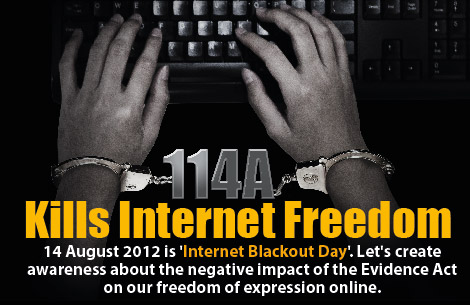 DAP will suspend all its online activities tomorrow in solidarity with the Internet Blackout Day in protest against the recent amendment to the Evidence Act that critics say will curb Internet freedom.

"The DAP national headquarters will suspend all of its online activities for 24 hours after midnight on Aug 14 in support of the Centre for Independent Journalism's (CIJ) 'Internet Blackout Day' campaign.

"For 24 hours, from midnight of Aug 14 to Aug 15, the official websites, Twitter accounts and Facebook accounts of DAP Malaysia will not be posting any updates, news or activities," it said in a statement today.


Also to go dark is the website of the party organ's Roketkini.
When contacted, CIJ executive officer Masjaliza Hamzah (right) said the Bar Council too has pledged to take down its website tomorrow.

Meanwhile other sites such as popular forums cari.com and jbtalks.com, news portals Malaysiakini and Free Malaysia Today, civil society websites Women's Aid Organisation and Aliran, top blogs and even famous commercial sites will be uploading a pop-up on their sites in support of the campaign.
"We are suggesting that they upload the pop-up at midnight on Aug 14 but some have already uploaded it," Masjaliza said.

A check with the Bar Council website showed that it has already uploaded the pop-up, prior to going on its complete shutdown tomorrow.

'114A against principle of law'

In its statement, DAP said its action was to protest Section 114A of the Evidence Act, an amendment that was slipped through Parliament among several other legislation in April and May.

"Section 114A places the burden of proof on the defendant. This runs counter to the principle of law where the defendant is innocent until proven guilty.

"It also undermines the purpose of the Internet to disseminate information and facilitate an environment of open discussion," the party said.


Under Section 114A of the Act, the owner of an Internet network is presumed guilty for any "illegal activity" conducted through the network.

Also, if one's name or picture appears alongside any online article, that person will be presumed to be the owner of that publication.

DAP said the party's supremo Lim Kit Siang would also join in the Internet Blackout Day and not update his blog, Facebook and Twitter accounts.

The party also encouraged all party representatives to follow suit.

Opposition Leader Anwar Ibrahim had on Aug 9, after Pakatan Rakyat's council meeting, announced the coalition's endorsement of the CIJ campaign.
Today's Visitors: 0 Total Visitors: 13