[Malaysiakini] BMC: Benteng konkrit dibina semula
~ By Syed Jaymal Zahiid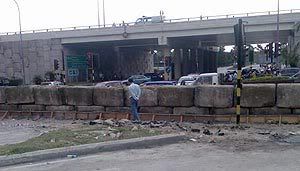 Pekerja syarikat konsesi lebuhraya, Grand Saga, mengambil masa kira-kira 14 jam setengah untuk membina semula benteng konkrit di jalan akses bebas tol di Lebuhraya Cheras Kajang di Bandar Mahkota Cheras (BMC).
Mereka memulakan kerja tersebut pada kira-kira jam 1 pagi tadi dan menyiapkannya pada kira-kira jam 3.30 petang tadi.
Bagaimanapun, keadaan menjadi tegang apabila penduduk BNC yang cuba meruntuhkan benteng tersebut bergelut dengan sekumpulan lelaki yang didakwa diupah oleh Grand Saga untuk mengawal benteng tersebut.
Menurut penduduk, seramai kira-kira 12 orang cedera selepas mereka dibelasah oleh kira-kira 30 orang 'samseng' tersebut.
Pengerusi Jawatankuasa Buka Jalan, Tan Boon Hwa ketika dihubungi malam tadi berkata, beliau menerima maklumat bahawa kumpulan lelaki tersebut bersenjatakan batang besi, helmet dan kayu.
Pada kira-kira jam 7 malam, kumpulan lelaki tersebut datang dan membelasah penduduk yang cuba meruntuhkan benteng tersebut. Seorang penduduk wanita turut dibelasah oleh lapan orang lelaki," kata Tan kepada Malaysiakini.
Tan, yang sedang berada di sebuah klinik yang merawat salah seorang penduduk yang cedera, berkata beliau tidak berada di tempat kejadian ketika kejadian itu berlaku.
Sebelum itu, beliau telah membuat laporan polis terhadap kehadiran kumpulan 'samseng' di kawasan tempat benteng tersebut dibina.
Pada kira-kira jam 10 malam, kira-kira 400 hingga 500 penduduk berhimpun di kawasan tersebut, dan cuba meruntuhkan benteng konkrit itu.
Menurut saksi-saksi, kira-kira tiga atau empat ketul batu besar telah diruntuhkan.
Difahamkan, dua orang penduduk telah dimasukkan ke Hospital Kajang selepas cedera dipukul samseng-samseng tersebut. Salah seorang daripada mereka dikatakan cedera di bahagian muka dan patah tangan.
Polis sedang berusaha untuk meleraikan penduduk tetapi arahan itu tidak diendahkan oleh penduduk.
Kira-kira lima kereta peronda di tempatkan di situ, dengan anggota polis mengawal aktiviti penduduk.
Pada kira-kira jam 10.10 malam, enam trak Unit Simpanan Persekutuan (FRU) tiba di tempat kejadian. Penduduk yang berhimpun di situ sekali lagi diarahkan bersurai dan kali mereka mereka bergerak dari kawasan tersebut.
Pembinaannya dimulakan kira-kira lapan jam selepas Pengarah Eksekutif Grand Saga, Zainal Abidin Ali mengeluarkan kenyataan bahawa syarika konsesi itu akan membina semula benteng konkrit tersebut.
Kira-kira 200 penduduk berhimpun di situ, tetapi mereka hanya melihat sahaja pekerja membina benteng konkrit tersebut.
Berikutan keputusan mahkamah memihak kepada Grand Saga, maka penduduk berkata, mereka tidak akan merobohkan benteng itu sepertimana yang berlaku sebanyak dua kali sebelum ini.
Benteng konkrit yang baru itu dibina kira-kira dua kaki daripada tapak benteng yang dibina oleh syarikat konsesi itu sebelum ini.
Pengerusi Jawatankuasa Buka Jalan BMC, Tan Boon Hwa memberitahu Malaysiakini bahawa mereka menyerahkan perkara itu untuk diselesaikan oleh kerajaan negeri Selangor.
"Kita akan serahkan kepada kerajaan negeri untuk mengendalikan perkara itu. Menteri Besar, Tan Sri Khalid Ibrahim telah menyatakan bahawa adalah haram untuk membina benteng di jalan tersebut sebagaimana yang dinyatakan oleh Pejabat Tanah Ulu Langat," kata Tan ketika dihubungi pagi tadi.
Pertikaian berhubung pembinaan benteng di jalan tersebut yang bolehkan penggunanya mengelak bayaran tol, telah berterusan sejak tiga tahun lalu tetapi ia sampai ke kemuncaknya pada 21 April lalu apabila penduduk di situ, dengan sokongan beberapa ahli exco kerajaan negeri Pakatan Rakyat, bertindak memusnahkan benteng yang dibina pada 2005.
Grand Saga kemudiannya membina semula benteng di situ, tetapi penduduknya bertindak memusnahkannya semula.
Bagaimanapun, percubaan Grand Saga untuk membina benteng konkrit setinggi tiga kaki - bagi kali ketiga - pada malam 8 Mei lalu terganggu, apabila pihak polis melepaskan tembakan gas pemedih mata untuk menyuraikan penduduk yang berhimpun di situ.
Empat hari kemudiannya, penduduk gagal mendapatkan perintah dari Mahkamah Tinggi untuk menghalang syarikat konsesi lebuhraya itu mendirikan semula benteng konkrit di jalan tersebut.
Selepas mahkamah membuat keputusan yang memihak kepada Grand Saga, Zainal Abidin mengeluarkan notis semalam bahawa benteng konkrit akan dibina semula di situ dan berharap orang ramia tidak
mengengkari penghakiman mahkamah tersebut.
24 jam untuk bertindak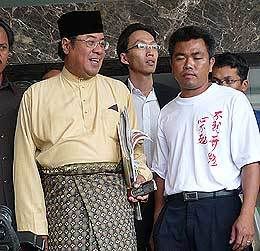 Setiausaha politik menteri besar Selangor, Nik Nazmi Nik Ahmad, ketika ditanya mengenai pembinaan semula benteng tersebut, berkata pihaknya sedang berbincang dengan peguam mengenai tindakan terbaik yang harus diambil.
"Kita telah memberitahu Grand Saga bahawa jika mereka mahu mempertikaikan bidangkuasa ke atas jalan tersebut, mereka mesti membawanya ke mahkamah. Mereka tidak boleh menghalang jalan tersebut sehinggalah perkara itu diselesaikan melalui proses undang-undang," katanya.
Nik Nazmi menambah, kerajaan negeri Selangor akan mengumumkan tindakan selanjutnya berhubung perkara tersebut dalam tempoh 24 jam kerana terdapat banyak isu yang perlu dipertimbangkan.
Syarikat konsesi lebuhraya itu telah membina benteng di jalan akses tersebut tiga tahun lalu dan tindakan itu dibantah oleh penduduk di situ yang menggunakan laluan tersebut tanpa perlu membayar tol di Plaza Batu 11, Cheras.
Ekoran pembinaan benteng tersebut, penduduk terpaksa memandu sejauh enam kilometer dan membayar tol 90 sen kepada Grand Saga.
Dua minggu lalu, Khalid memberi tempoh selama tujuh hari kepada semua pihak yang terbabit dalam pertikaian tersebut - Grand Saga, Pemaju BMC Narajaya and the Lembaga Lebuhraya Malaysia -
supaya menyelesaikan isu tersebut.
Bagaimanapun, semalam, Zainal Abidin berkata "malangnya isu tersebut gagal diselesaikan" selepas tampat tempoh masa tujuh hari itu.
Berita di atas dipetik dari laman Web
Malaysiakini
.
Today's Visitors: 0 Total Visitors: 142