RIMOWA SALSA LUGGAGE




If any of my readers are not aware, I recently moved all my stuff from Taipei to my new home in California. Because I tend not to travel light ( a bad habit of mine) , I finally invested in a proper luggage for this occassion. Before my Singapore visit, I purchased a matte black Rimowa Salsa from Taipei 101. For me, it was a hard decision choosing between the Salsa line and the more expensive Topas line. People are usually faced with this dilemma when looking to acquire their first Rimowa. So I'll try to break it down why I went with the Rimowa Salsa luggage instead of the Topas.





The first reason was because of the material the case is made of. Because the Topas is constructed from aluminum, it is sturdier than the plastic mold that the Salsa is made from. Unfortunately, with that strong outer shell, the luggage becomes much heavier. And since I was already packing overweight with all the junk I needed for each trip, I went for the lighter option.





Second, the Topas tends to show a lot of wear and tear very easily, often suffering from plenty of dents and scratches from each trip. The matte black Salsa version seems to more resilient to scratches and damages because of its rough surface. Some people love how the topas age over time and gains "stories" from each bump and dent. But I was looking for a workhouse of a trunk that will look brand new after 20 trips overseas.




And lastly, it was the price. Even though the Topas is what people think of when they think of Rimowa, it does cost almost twice as much as the Salsa line. So I decided to save some money this time and reserve the Topas for later in my life.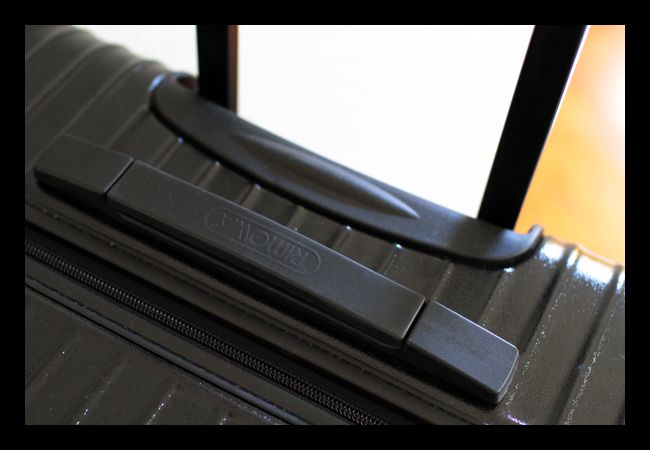 So why Rimowa, instead of Tumi, Samsonite, Globetrotter, or any of the other great luggage makers out in the market right now? I'm embarrassed to say, but I always loved Rimowa because I noticed so many Japanese travelers with them. Every time I'm at the airport or on a train, I always admired the Japanese flyers and riders with their Rimowa luggage. And since I'm such a Japanophile, it was natural for me side with Rimowa for my first real luggage purchase.




Other than being a great luggage, I found that small things like 360 degree spinning wheels makes your traveling so much more enjoyable. When you're on vacation, the most tiresome aspect is most likely the period before you reach your destination. It reminds me of when I first visited China and my luggage handle broke on me while I was carrying it up a flight of stairs. It was a nightmare. After that experience, I appreciated a good luggage system much more.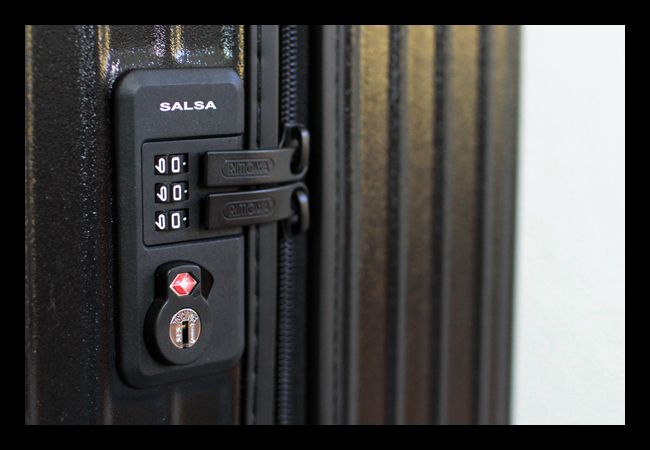 Another great detail about Rimowa luggage is that they all come attached with TSA approved combination locks. I never understood why some people do not put luggage locks on their bags when checking it in. This reminds me of when my ex lost her Sony Viao laptop because she packed it in with her check in luggage. After that, I always made sure to use a TSA lock on all my check-in bags.




Rimowa also has a great and strong extension handle. The Salsa Air ( a lighter version of this line ) features a single shaft handle to reduce weight. I wonder if that makes a difference in usage. I imagine it is probably annoying to have that shaft in between of your fingers when you're gripping the handle though.




Like most Rimowas, the luggage is folded book style. This could be an issue if the hotel you are staying in is limited in space, so it cannot fold out properly. But I actually prefer this system because it allows me to separate my stuff neatly. I like to keep clothes on one side, and shoes, toiletries and electronics on the other. By having them divided, I don't have to worry about the stuff on the bottom side being crushed by the stuff on top.




These easy to use clip on straps and the mesh divider also helps keep the stuff in place when you are closing the luggage. It might seem strange at first, but it's very easy to use after your first try.




So what do you do if you fly to a country like Japan, and everyone is carrying a Rimowa, and you need to differentiate yours from others? I actually look a ribbon belt from one of my Uniqlo shorts and cut the strap into 12 inch pieces. Then I tightly tied it around the handle, thus making it easily recongizable during luggage claim. Other people tend to cover their Rimowa with stickers to make them more personal ( some people even put stickers of places they never even visit before
), but I wanted to keep this one clean and simple. Perhaps I'll sticker bomb my future Topas model.

In closing, if you happen to travel often like me, be sure to spend some money on a good luggage. It will make your life and your trip much easier. Ciao!

Today's Visitors: 0 Total Visitors: 2587