My Life, The Movie
Many months back, I wrote an article about what movies every guy, and couple should watch. These were all romantic comedies, them being my favorite genre of movies. They gives us hope that the soul mates are meant to be together and even when there seems to be no hope left, there is!
My favorite one rotates constantly between You've Got Mail, Alfie, and Hitch. But the one that spoke to me the most in my life was Hitch. If you do not have the honor of seeing this movie yet, SHAME ON YOU! I highly recommend you to go out and buy it on Blu-ray, or DVD, or legally download it right now! So if you have not seen it, let me try to summarize the movie for you the best way I can. Alex Hitchens, portrayed by Will Smith, is the main character. He is a smooth talking, prideful, well dressed, well calculated, well prepared, womanizer, whose profession is a secret match maker for men. Because of a personal betrayal of love from his past, he has strived hard in his life to know exactly how to win a girl over. He teaches these technics to his clients and often assists from the sidelines. Although he feels that he is the master of his craft, his world gets turned upside down when he meets the reporter, Sara Melas (Eva Mendes). At first, he tries to works his magic, using all the tricks up his sleeves. But for some reason, he seems to always blunder on his dates with her (some really funny scenes). It was only after being drunk from over the counter medicine, that he was able to take off his mask and bare his soul to Sara. They fall truly in love soon after.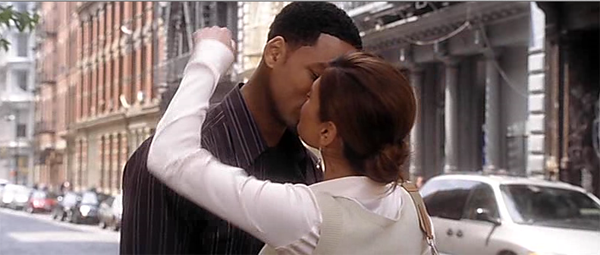 The climax of the film comes when Sara finds out that Alex is actually the mythical "date doctor" and she believes that Alex trained a guy that had a one night stand with her friend. This is obviously not the real truth, and Alex even confronts Sara during a speed dating class. Sara doesn't trust Hitch and believes that she has been "worked over by a professional". She exposes his true identity and that of his clients in her newspaper, in search for revenge.
Alex loses his career and many of his clients split from their spouses. Alex has nothing at this point, his job, his love, and his best client/friend doesn't even see him the same anymore. Sara eventually finds out the truth and apologizes to Alex, but Alex is cold to her and says that he does not like to "get involved past a certain point, and that point was about a week ago". They split ways from there.
Only after witnessing one of his client confess his love, realizing that his methods meant nothing to the client's girl, Alex is motivated again and runs to Sara's apartment, unannounced. In one of the best scenes in the movie, Alex is sweaty, tired, and obviously not dressed like he usually is. He didn't have time to prepare for this moment, like he does with most of his love encounters. The only way he can get his thoughts through is speaking from his heart. And he fails miserably but in a funny and truthful manner.
Sara hears what Alex has to say to her behind her closed front door. And when she opens it for Alex, the audience thinks that Sara will welcome him with open arms. But instead, the romantic music drops and another man walks out into Sara's apartment. Sara introduces him to Alex and the new guy leaves to put her luggage in the car. Alex realizes that it's too late, and lets Sara go at that moment. Sara turns to Alex and says:
"Maybe it's like what you said. We should just both go our separate ways and then we'll do just fine." She calmly walks down the staircase as the pain of disappointment floods Alex's face.
And just as Sara reaches the door, Alex musters up a response:
"What if fine isn't good enough? What if I want extraordinary?"
Sara, in a cold manner, responds, "No such thing."
Now you think that it is all over for these two soul mates. But as Sara rushes into the car to drive away from Alex, Alex does the exact opposite of what he teaches his clients. He acts on impulse! He jumps on the Sara's car.
When Sara finally stops the car and listens to Alex
Alex: I am a guy. Since when do we get anything right the first time?
Sara: I'm a realist, and I know what love does to people.
Alex: No you don't! I don't know who this is (referring to the new guy), and I don't care. What I do know is he'll never feel about you the way I do!
Sara: Are you trying to get yourself killed?
Alex: If that's what it takes.
She asks him : WHY?
Alex replies without thought:
"Because that's what people do. They leap and hope to God they can fly. Because otherwise, we just drop like a rock, wondering the whole way down "why in hell did I jump?". But here I am Sara, falling. And there's only one person that makes me feel I can fly. That's you."
A smile comes to Sara's face and she says "So you kind of like me huh?
Alex says, "No. I LOVE YOU. I love you and I knew it from the first..."
They both kiss and the movie ends with a wedding montage! And a great dance sequence also! Or yeah, the other guy is actually Sara's sister's fiancee!
I seen this scene more than a hundred times. Deep down I always hoped the adventures in my life would be like this. Because I started dating Kate when I was 22, I really did not have much experiences in life and romance. The only way I learned how was to watch movies and read books, and learn from the characters and situations.
But life is not like the movies. People do change, situations do too. And sometimes, the ending doesn't just wrap up completely and neatly. Feelings get hurt to the point that you cant trust that person anymore. Words and actions that people regret later occur and can't be mended by a lovely speech like Alex's.
When I actually leaped, well jumped in that taxi that night and rushed to Kate's door, I didn't know what to do either. I was out of my mind! I didn't have time to prepare an amazing speech to proclaim my love. I just needed to see her face and for her to see my face. All I knew was that I couldn't meet her at our old door, angry, but instead, in a calm manner. But that door never opened for me. And the person on the other side never gave me the chance to hear my thoughts. It even erupted to the point that the police was called to remove me from the place I use to live. Sounds like a movie right?
I know I should regret what I did and I did apologize for it. But deep down inside, I had hoped that the outcome would mirror that of Hitch! But once again, life is not a movie. Life has hardships, lost connections, pain, suffering, regrets, but also wonderful experiences and happiness too.
I really don't know why I took this time to write this article. Maybe because I wanted more people to watch and enjoy Hitch like I did. Maybe I wanted Kate to know that what I did out of impulse that night when I rushed over, was not because I was immature, but instead, foolish and a bit crazy. But that is what people in love do, foolish things! Just so the other person knows that you do actually love them. I hope she is able to read and understand this one day.
The main lesson in the film Hitch was that there are no rules in love. And that is true. Love cannot be expressed by just words and surface appearances. Love is the connection between two people that only they share. And no matter what your family, or friends feel about it, only you should make the choices for it.
Even though so many people thought that Kate and I were in a perfect relationship, soul mates, meant for each other, destined to marry, and a whole lot of stuff. There were many things that happened that people don't know about. Not just hardships, but a lot of great things that only we shared with each other. But at the end, the negative things, like me not being able to find a full time job in Taiwan, ruined the image that Kate had of me. I never understood her desires and hopes completely at the time, but I know I do now. She wanted the best for me, because I would one day marry her and spend the rest of our lives together. But she couldn't see a future with me as I am right now. I assured her that I could change, and even tried to show her many times before the end. But it was too late. Her heart had moved on, along with her feelings for me.
But at that moment, my feelings still have not changed for her. My eyes were opened to my mistakes and it took a month of solitude and consideration to know where I lacked, and I tried my best to be that better man that she hoped me to be. But she said she still couldn't see a future for us. So again, life is not like the movies.
Or maybe it is, maybe we are not at the end where Alex rushes to Sara's door foolishly, but instead, we are at the midpoint when Alex tells Sara that he doesn't want to be be with someone "after a certain point". And there are still more scenes, and happy ending to be seen.
Only God knows at this point what the future holds though, and I pray everyday that He has a plan for us. I know we can never turn back time and relive the wonderful past that we shared. But maybe there's even an better future ahead, together.
I do want extraordinary! I think we all do. AND I DON'T BELIEVE THERE'S NO SUCH THING!
Today's Visitors: 0 Total Visitors: 5458